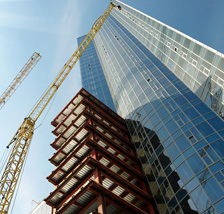 Our attorneys' extensive experience regarding all aspects of real estate development has been instrumental in helping to resolve disputes and avoid litigation where possible, and in successfully litigating where necessary, all in a cost effective way.  Partnering with the firm's real estate group and backed by our broad-based industry knowledge, we provide clients the advantages of our wide-ranging experience to develop strategic approaches and innovative solutions.
Our experience extends to all phases of the life cycle of a real estate project.  We have assisted clients in defeating efforts by community groups and others seeking to impede or delay development, in enforcing or defeating enforcement of preliminary agreements (such as letters of intent) between joint venturers in real estate development, and in enforcing or defeating enforcement of rights of first offer and first refusal.  We regularly assist real estate investors; owners; developers and sponsors of co-operative, condominium and other residential and commercial real estate developments; general contractors and construction managers; subcontractors; architects; and engineers in a wide variety of matters that arise before, during and after the completion of the development process.
In short, our attorneys have extensive and valuable experience in handling litigation and arbitration  arising out of disputes relating to the following:
Real property development
Construction and mechanic's liens
Condominium and co-operative offering plans, the New York Martin Act and the Interstate Land Sales Full Disclosure Act
Adverse possession, easements, air rights and land use
Real estate brokerage
Land sales
Real estate lending
Real property workouts and other restructuring
Property management
Commercial leasing
Notable representative real estate and construction litigation matters handled by the firm's attorneys include:
In a leading case (Brown v. Cara, 420 F. 3d 148 (2d Cir. 2005)) concerning enforcement of preliminary agreements for real estate development, represented interests of property owner and real estate developer in defeating enforcement of a memorandum of understanding with another developer which created a joint venture to develop real property, enabling development of a 230-unit condominium by our client.
Represented a contractor and its surety against the NYC School Construction Authority in an action seeking damages for the improper termination of the contractor from a school construction project.  A settlement with the SCA was reached shortly before trial, pursuant to which the contractor and the surety received $7.75 million.
Successfully defended commercial property owner against claims of fraud, mutual mistake, negligent misrepresentation and commercial impossibility in action for refund of downpayment in failed $50 million real estate sale.
Successfully defended the architect of the Chelsea Piers Sport and Entertainment Complex against defective design claims in a third-party action brought by the structural engineer at the project.  The case was settled with no contribution from the client.
Successfully defended developer against multiple attempts by community organizations in federal and state courts to halt construction of a Manhattan affordable housing development.
Successfully represented the interests of a real estate developer of a luxury condominium and the general contractor in an arbitration against claims for payment by a subcontractor, resulting in denial of any award for the subcontractor and a substantial award of damages for faulty construction in favor of our client.
Successfully represented commercial landlord in a federal court dispute with its tenant, obtaining summary judgment directing the tenant to participate in an appraisal proceeding to determine the fair market rental of a lease renewal term.
Successfully represented a contractor in connection with construction disputes arising out of exterior restoration of a New York courthouse.  Following a six-day trial, the jury rendered a verdict rejecting the claims asserted by the general contractor and another subcontractor, and awarding virtually all the damages sought by the client.
Successfully represented the construction manager in an arbitration involving disputes arising out of the construction of the Chambers Hotel in Manhattan.  After sixteen days of hearings before the American Arbitration Association, the Arbitrator denied the owner's counterclaim in its entirety and awarded all the construction management fees sought by the client.
Successfully represented an architect in an arbitration arising out of a dispute with the owner of a luxury condominium.  After eight days of hearings before the American Arbitration Association, the Arbitrator denied the owner's counterclaim in its entirety and awarded almost all the architectural fees the client had sought.